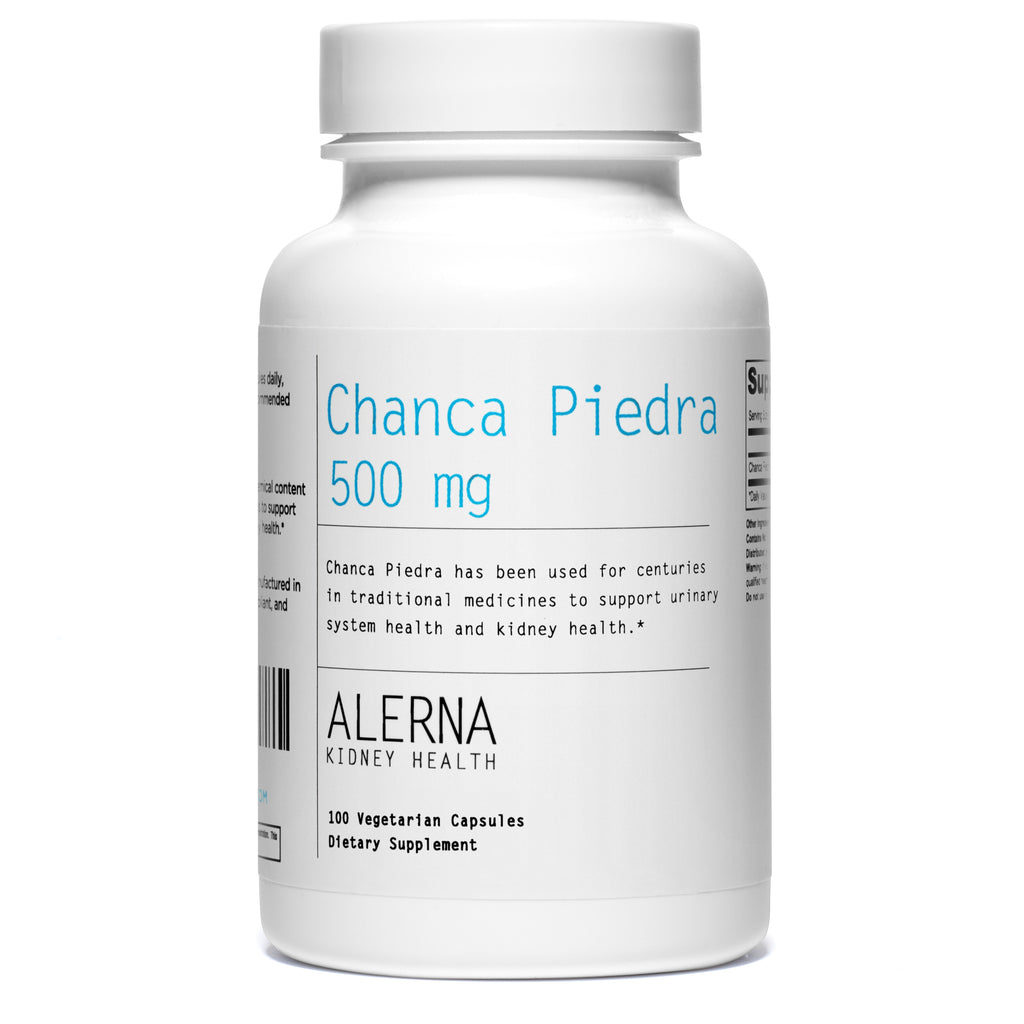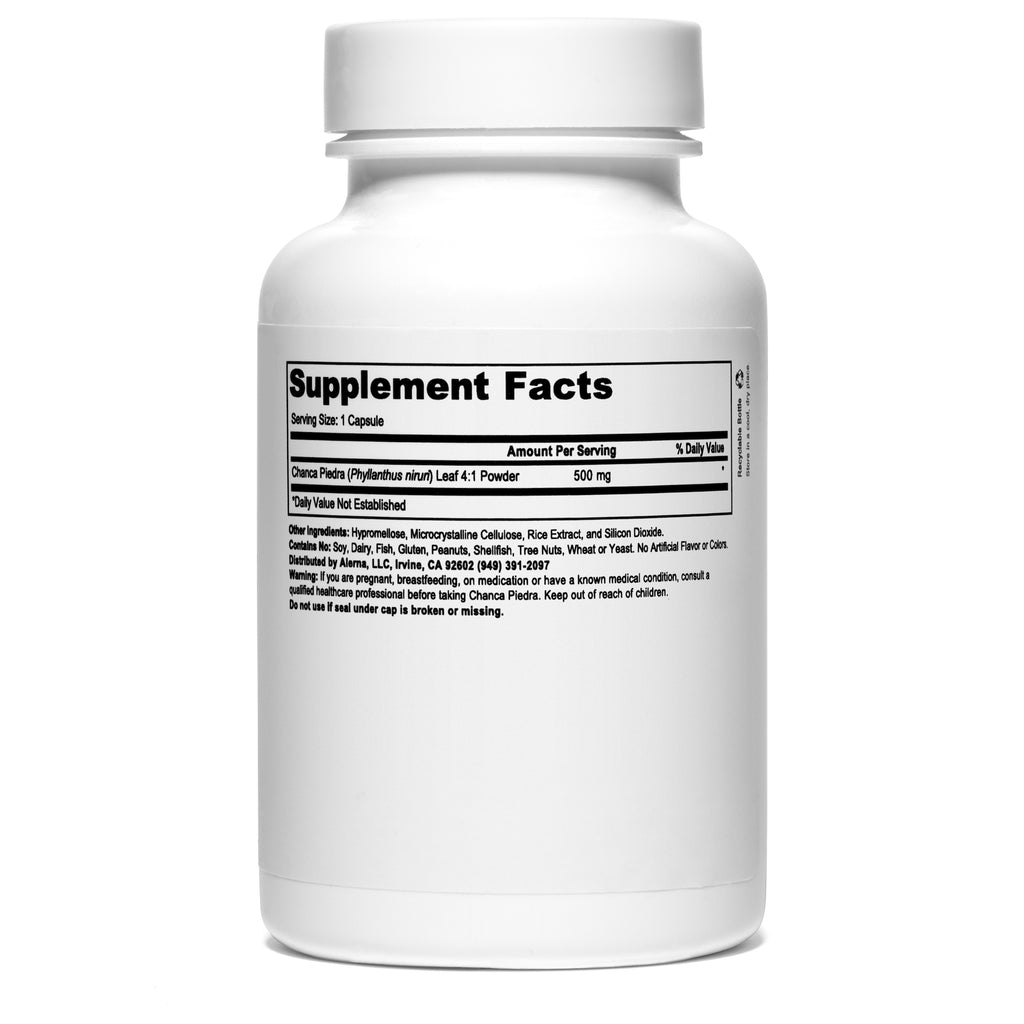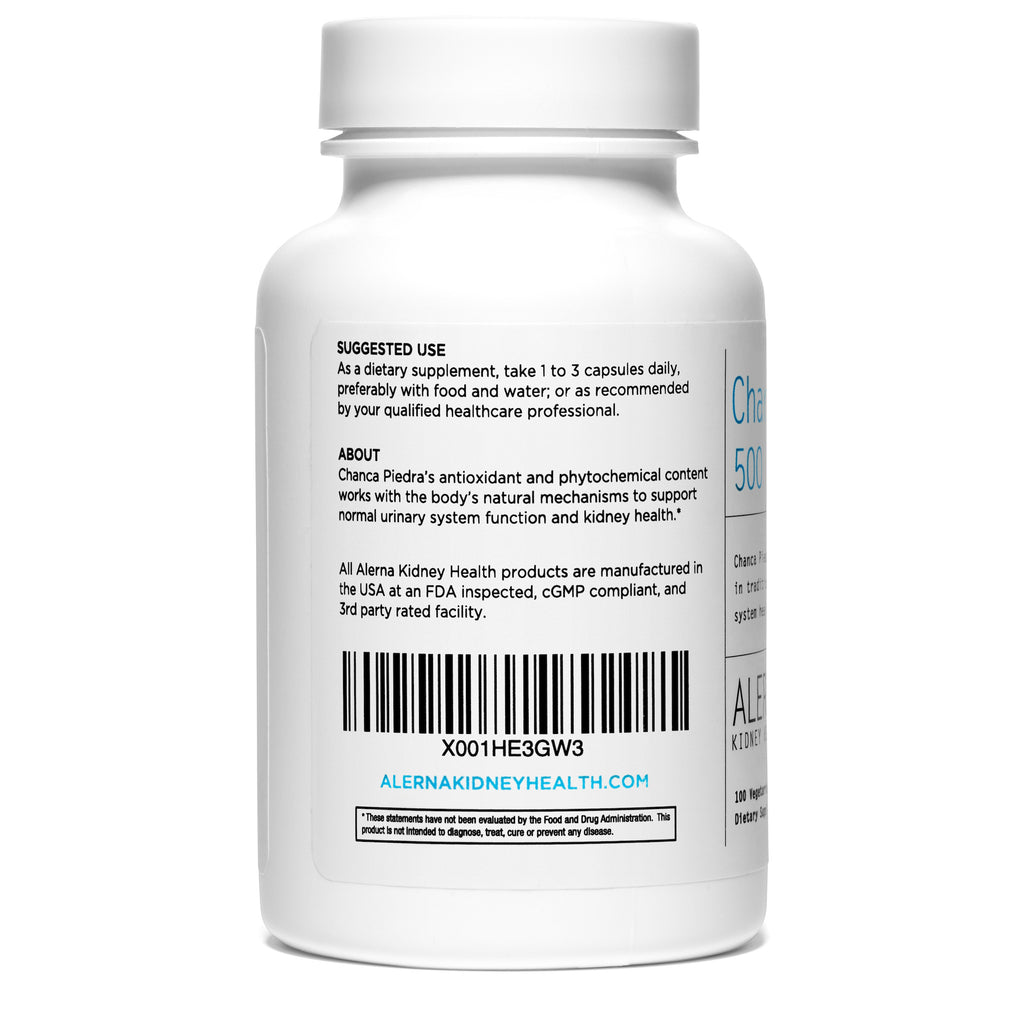 $ 13.99
Alerna Kidney Health Chanca Piedra - 100 Caps
Product Overview
Experience natural kidney support with our Chanca Piedra (Phyllanthus niruri) supplement, also known as Stone Breaker. Our premium formula is carefully crafted to provide targeted support for kidney health and urinary tract function.
Chanca Piedra has been used for centuries in traditional medicine for its potential to help break down kidney stones and support overall kidney function.
Key Features
Effective Kidney Support: Chanca Piedra has been traditionally used to support kidney health and promote the normal function of the urinary tract. Its natural properties may assist in breaking down kidney stones and preventing their formation.
Natural Stone Breaker: Our supplement contains pure Phyllanthus niruri extract, a potent botanical known for its stone-breaking abilities. It may help dissolve and eliminate kidney stones, supporting a healthy and pain-free urinary system.
Gentle Detoxification: In addition to its kidney support benefits, Chanca Piedra aids in gentle detoxification, helping to flush out harmful toxins and waste from the body, supporting overall well-being.
Health Benefits
Promotes Kidney Health: Chanca Piedra's active compounds may support the kidneys' normal function and help prevent the development of kidney stones.
Urinary Tract Support: By promoting a healthy urinary system, this supplement helps reduce discomfort and maintain proper urinary flow.
Natural Detoxification: Chanca Piedra assists the body in eliminating toxins, supporting liver health and overall detoxification processes.
How to Use
As a dietary supplement, take 1 capsule 1 to 3 times daily, preferably with a meal or as directed by your healthcare professional.
For best results, drink plenty of water throughout the day to help flush out toxins and support kidney function.
Safety Information
Before starting any new supplement, consult your healthcare provider, especially if you are pregnant, nursing, or have any underlying medical conditions.
Keep out of reach of children.
Do not exceed the recommended dosage.
Our Quality & Money Back Guarantee
All Alerna Kidney Health products are manufactured in the USA with globally sourced ingredients at an FDA registered, cGMP-compliant, and 3rd party-rated facility.
We stand by our products! If the product doesn't work out, we will refund 100% of your purchase, including shipping costs for up to one bottle of Chanca Piedra per customer.
FAQs
How long should I take this supplement?
For ongoing kidney support, we recommend taking Chanca Piedra regularly. Consult your healthcare professional for personalized advice.
Can I take this supplement with other medications?
It's essential to consult your doctor before combining any new supplement with existing medications to avoid potential interactions.